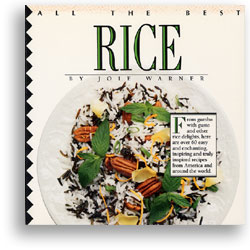 Rice is not new to America: what is new is its new-found popularity. Long relegated to the back reaches of the cupboard, rice is finally coming into its own.
Just as we learned there is more to pasta than spaghetti, so, too, we are beginning to discover the myriad varieties of rice which, depending on whom you consult, number between seven thousand and forty thousand!
Wait until you see what Joie Warner--with her inimitable style and her gift for simplicity--does for this versatile grain. You can steam it, boil it, bake it, microwave it; you can prepare it in any old pan, a steamer, the latest microwave or electric rice cooker, or bake it pilaf-style in the oven. Whether it's soup, a main dish, or dessert, you'll find everything from Wild Rice and Mushroom Soup, to Risotto with Gorgonzola and Pistachios, or Rice with Feta, Mint, Olives, and Tomatoes, to Citrus-Scented Rice Pudding...plus tips to turn that rice out right every time!



TRY A RECIPE FROM JOIE'S BOOK

PRESS REVIEWS:
see what the critics say about Joie's recipes and cookbooks



READER'S REVIEWS:
see what AMAZON.COM customers say about Joie's cookbooks



COOK'S REVIEWS:
see what EPICURIOUS.COM visitors say about one of Joie's recipes



MORE OF JOIE'S RECIPES