Here's what the critics are saying about Joie's books and recipes.

"pretty nearly perfect"
Washington Post


"simply delicious"
The Detroit News


"a ten plus"
Cosmopolitan




"perfection"
amazon. com


"winning flavor combinations"
Houston Chronicle


"a...dream"
The Palm Beach Post


"imaginative"
Baton Rouge Advocate


"fresh, simple, bursting with flavor"
Des Moines Register


"Joie puts you at ease"
Espresso, San Diego


"hard to resist"
New York Daily News


"a master"
Style at Home Magazine


"clever"
Restaurant Hospitality Magazine


"results...are refined"
Kansas City Star





barnesandnoble.com


"so much flavor"
epicurious. com


"couldn't get easier than this"
Milwaukee Journal


"a must for any cook"
the internet review


"simply amazing"
Richmond Times Dispatch


"perfect"
Sun Sentinel, Ft, Lauderdale


"Warner's recipes
best bet"
Edmonton Journal


"talented author"
Foodworks


"doesn't get better than this"
Canadian Jewish News


"delicious"
Cleveland Star


"fresh and simple"
Vancouver Sun


"delicious results"
Chicago Tribune


"Warner's ideas inspire"
The Food Channel


"easy and delicious"
Essence Magazine


"Warner has a nice touch"
Ottawa Citizen


"elegant"
Alibris.com


"sparkles"
Cincinnati Post


"recipes really work"
Toronto Star


"fantastic results"
Epinions.com


"a winner"
Seattle Times


"enticing"
New York Daily News


"fresh, attractive"
Entertainment Weekly


"beautifully produced"
Sonoma West Times


"recipes are endlessly inviting"
Los Angeles Daily News


"tasty"
Philadelphia Inquirer


"simple and delicious"
Bon Appetit Magazine


"creative recipes"
Montreal Gazette


"ideal for cooks"
Publishers Weekly


"spectacular jewel of a cookbook"
Sanford North Carolina Herald


"winner"
Globe & Mail


"impressive results"
Quill & Quire


"cookbook whiz"
Chatelaine Magazine


"very au courant" "recipes are clear and uncomplicated"
House and Home Magazine


"remarkably easy"
New Hampshire Register


"outstanding recipes"
Chatham Daily News


"perfect summer recipes"
Cox News Service


"elegant"
Publisher's Weekly


"upscale dishes"
Pittsburgh Tribune-Review


"especially charming"
Budget Living Magazine


"Warner's books never fail to surprise: her recipes to delight"
The Bolton Common

ALSO on this site:


SIGN-UP for
JOIE'S NEWSLETTER

Anne-Marie Seltzer, THE BOLTON COMMON

Joie Warner shows new ways to dress up the country's "favorite fish." According to Warner, the secret is using quality tuna and fresh ingredients. Her recipes are creative to be sure. Watch the Patriots while nibbling on Tuna Tapas. Warm up with a bowl of Broccoli, Cheddar and Tuna Chowder. Add Kalamata olives to make the Not-Your-Mother's Tuna Melt. Warner's books never fail to surprise: her recipes to delight.

Carolyn Whitbeck, BUDGET LIVING MAGAZINE

"...Now that you've mastered one domestic duty, it's time to tackle another: namely, dinner. But before dialing Pizza Hut (again), try dusting off that can of Bumble Bee and diving into Take a Tin of Tuna (Chronicle Books, $20), by Joie Warner.
The veteran cookbook author gives the canned pantry staple a thoroughly fresh flavor with 65 delish dishes and bright, appetizing photos. There are twists on such old favorites as bagel, cream cheese sandwiches (a less expensive remake of bagels and lox), as well as Warner's own innovations, like rigatoni with tuna and artichokes.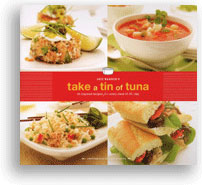 Especially charming is the way she roots for the lowly fish. "There's a...world of recipes out there," she writes, "mostly from the Mediterranean, where cooks treat canned tuna as a delicacy.


PUBLISHERS WEEKLY

Tuna sandwiches and casseroles are staples of American cooking, but, declares Warner, the canned version of the country's "favorite fish" is much more versatile than many of us realize. In this handsome paperback, the author (a food journalist who's penned more than 20 cookbooks) shows how the tasty and cheap standby can serve as the basis for some unexpectedly elegant meals. She spruces up tuna salad (adding avocados, Tabasco and cumin for Spicy Mexican Tuna, Black Bean and Tomato Salad), riffs on tuna melts (suggesting artichoke hearts and Kalamata olives in Not-Your-Mother's Tuna Melt) and adds verve to tuna casserole (with freshly made cream sauce and tangy lemon in Classy Tuna Noodle Casserole). Warner's ideas for using canned tuna in pasta dishes, sandwiches, soups, antipasti and dips are unique yet simple, and the recipes range in cuisine from Italian to French to all-American. The trick, Warner explains, is pairing good-quality canned tuna with fresh, flavorful ingredients. With color photos, well-rounded introductions to each recipe and simple instructions, this cookbook will appeal to cooks of all experience levels.

Karin Welzel, PITTSBURG TRIBUNE-REVIEW

"The 21st century just might be the right time for canned tuna to get some respect...Joie Warner's Take a Tin of Tuna: 65 inspired Recipes for Every Meal of the Day offers some novel ideas for those who think canned tuna should be relegated to brown-bag sandwiches and comfort-food casseroles.
Warner, author of more than 20 cookbooks, including Joie Warner's No-Cook Pasta Sauces, isn't writing about the canned tuna you can buy on sale, three for $1 at the grocery store. She urges readers to try premium tuna, particularly that canned in olive oil, which is a staple in Mediterranean countries...
Warner suggests canned tuna in an array of upscale dishes, such as Spanish tapas, in a cheese souffle, as a fondue ingredient and in a filling for deep-fried wontons. There are fresh twists on everyday tuna recipes - a tuna melt goes Hawaiian with pineapple, bacon and Monterey Jack cheese, for example - and entire chapters are devoted to appetizers and snacks (Tuna Tapenade), soups and chowders (Quick Tuna Bisque), sandwiches (Tuna Reuben) and salads (Tuna Coleslaw with Grapes). There even is a from-scratch tuna-topped pizza featuring roasted red peppers and capers.
Luscious photos are by Warner's husband, Drew, a designer, producer and food photographer.
The author explains the differences among tuna categories...She also details brand-name pantry items she keeps in her kitchen for creating an "almost limitless" variety of quick dishes. However, the bulk of her ingredients are fresh - cilantro, tomatoes, garlic, lemon juice, herbs, green onions - to complement the flavor of premium canned tuna. Most of the recipes are good enough to serve to company.


Rosemary Black, NEW YORK DAILY NEWS

"If you've got a can opener and a copy of Joie Warner's Take a Tin of Tuna (Chronicle Books), you'll never have to eat another boring tuna and mayo sandwich. In fact, you can savor a different salad, sandwich or appetizer for a very long time without getting sick of America's favorite canned fish!
But first, reconcile yourself, as the author has, to the fact that canned tuna is never gonna be hip. Once you get past that, and when you realize that tuna contains those great omega-3 fatty acids, you'll enjoy paging through the amazing repertoire of delicious dishes that start with a can of tuna.
To start, read up on Warner's "Tuna Tips" and "The Tuna Pantry." The author recommends buying tuna packed in olive oil, not water, because it's got the best flavor. She also prefers light meat tuna to white meat tuna because it's got a rich, meaty taste.
Recipes are broken down into sections like Tuna Snacks and Starters, Tuna Soups and Chowders, Tuna Sandwiches and Tuna Salads. Who would have thought there'd be so many ways to make a tuna sandwich? My favorites here were the tuna cream cheese and caper wrap, the grilled eggplant, tuna and roasted red pepper panini, and the tuna nicoise.
Though you're not going to find the ubiquitous tuna casserole made with canned cream of mushroom soup, you'll find a sherry and mushroom-flavored tuna tetrazzini, plus a classy casserole prepared with ripe tomatoes, fresh lemon juice, and fresh basil!

Reagan Walker, COX NEWS SERVICE

Take a Tin of Tuna by Joie Warner. There's nothing simpler than opening a can of tuna. And, most of the time, there's nothing more boring.
Warner offers 65 recipes to beat the tuna blahs, and most of them don't require you to turn on the stove -- which makes them perfect summer recipes. Some are as simple as mixing in some store-bought caponata and serving with crostini or crackers; others are more involved. Warner has some favorite flavors for pairing with canned tuna--capers, garlic and artichokes--but also some surprises. Chutney?


June Naylor, FORT WORTH STAR-TELEGRAM

If your ears hear "canned tuna" and your brain says "boring," have we got a book for you. Take a Tin of Tuna by Joie Warner is a treasury of easy recipes with a surprising "wow" factor.
Subtitled 65 Inspired Recipes for Every Meal of the Day, this clever volume transforms the common can of tuna by pairing it with sweet corn, potatoes, and cream for a lovely chowder; garlic, capers and olives for a tapenade appetizer; grilled eggplant, roasted red bells and ciabatta for panini; and tomatoes, Parmesan and arborio rice for risotto.
The recipe below makes a special salad to tote to work along with lettuce and pita bread. You can assemble the sandwich at your desk; take along some mango iced tea for the perfect flavor complement...
..............................................................................................................


Irene Sax, EPICURIOUS.COM [read more of Joie's reviews on epicurious.com]
"Here's how good Joie Warner's No-Cook Pasta Sauces is: I tested the tuna, lemon, and caper sauce recipe and found it so easy and delicious that I couldn't resist trying another. This time I prepared green-olive pesto, and bingo: another quick and satisfying meal.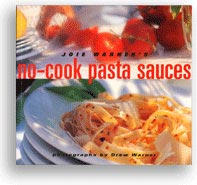 The concept here is simple. Put the sauce ingredients in a serving bowl and toss with hot pasta. As long as the ingredients are at room temperature, the pasta will heat them up nicely. And because nothing but the noodles has to be cooked, your sauce comes together in the time it takes to boil water and cook spaghetti.
It's true that Italy has few--very few--uncooked pasta sauces made with fresh tomatoes and herbs. But none of Warner's creations (with the exception of one based on Buffalo chicken wings) feel un-Italian in the way that pasta salads do. Even the Bolognese, made here with prosciutto and Genoa salami rather than ground beef, tastes authentic. If the Italians don't make such a sauce, they should."

Cynthia David, STYLE AT HOME

"From the windows of her bright kitchen in East Hampton, N.Y. Joie Warner overlooks paradise. In the summer, roses climb the walls of her shingled cottage on the eastern tip of Long Island, and herbs--from lavender to lemongrass--grow in her garden just steps from the kitchen door. Beyond, the ocean offers fresh-caught lobster, and gentle farmland yields fresh produce...
Her newest cookbook is entitled Joie Warner's No-Cook Pasta Sauces. And she means it! With not a sautéed onion or simmered tomato in sight, the collection of 75 recipes may be the fastest way ever to get dinner on the table, and is ideal for this bountiful time of year.
The self-taught cook and author spent a summer devising the recipes, cooking pasta on two big white stoves from the late '40s and '50s. She created each dish from a handful of vibrant ingredients like olives, lemons, tomatoes, capers, cheese and fresh herbs, blended them with a drizzle of olive oil, a slosh of cream or a pat of butter, and then triple-tested them. Tossing together ingredients, such as fresh chopped garlic and herbs, rather than sautéing them first, creates fuller, more intense flavors, Warner discovered. Her husband. Drew, a designer and food photographer, takes credit for the book's moody close-ups. Her book, Joie Warner's Spaghetti: America's Favorite Pasta was nominated for a James Beard Award and established Warner's reputation as a master of the single subject book...
'Nothing makes me happier than having somebody say they cooked their way through one of my books,' she says. For Warner, writing cookbooks was a natural extension of her love of cooking and passion for cookbooks. No-Cook Pasta Sauces is actually her fourth pasta book. 'I've eaten more pasta than most,' she admits, 'but I never get tired of it. It's inexpensive, elegant, and easy.' But there's another reason why Warner chose no-cook sauces. "I love to make recipes as simple as I possibly can," she says. 'If I don't have to use another pot, why bother? I hate doing dishes as much as everyone else.' "


Sheldon Kirshner, THE CANADIAN JEWISH NEWS

"Pasta lovers will appreciate Joie Warner's No-Cook Pasta Sauces. Her premise is: why cook if you don't have to? In this spirit, she divulges the secret to whipping up easy pasta sauces ready to eat in minutes without ever turning on a burner.

With only a handful of flavorful ingredients such as olives, tomatoes, citrus, cheese and herbs, you can cook up a storm. It doesn't get better than this."


Margaret King, THE SAN DIEGO UNION-TRIBUNE

"Of all the cookbooks on my shelves, the one with the most stains and stuck-together pages is not some weighty classic from Julia or Jacques.
The book that sees the most weeknight action in the kitchen trenches--especially when the weather heats up--is a slim volume from Joie Warner --No-Cook Pasta Sauces. Warner didn't invent no-cook sauces. Italians have been tossing pasta with pesto for centuries. But Warner has come up with a number of enticing options. The basic idea is to assemble oil, herbs, cheese and other fresh or canned ingredients in a pasta bowl.
Drain the pasta, dump it in and toss. The hot pasta melts the cheese and warms the other ingredients, sending up clouds of fragrant steam...
No-cook sauces are timesaving, simple and often economical. Just add rolls and a salad or steamed vegetable for a complete meal. And cleanup is easy because there are no extra pans to wash. But the sauces have an even bigger selling point: They taste terrific."


Beverly Bundy, KNIGHT RIDDER NEWSPAPERS (syndicated U.S. & Canada)

"A book that includes "No-Cook" in the title is guaranteed to catch your eye in July. Joie Warner's No-Cook Pasta Sauces is one sure-fire attention getter. The book's 75 recipes combine room-temperature sauces with a pot of cooked pasta to create delicious meals for cooks wrung out from a single trip to the grocery store.
The recipes range from a simple butter and parmesan sauce to a budget-busting lobster tarragon sauce. But in between are recipes using the season's lush tomatoes, herbs such as rosemary and basil, and pantry items such as canned black beans and canned clams.
Get off the sofa.
Go into the kitchen.
You can do this."


Sylvia Rector, KNIGHT RIDDER NEWS SERVICE (syndicated U.S.)

"When it's too hot to hang around a stove and you're bored with tending a smoky charcoal grill, wake up your taste buds with fresh, simple, bursting-with-flavor dishes from the new Joie Warner's No-Cook Pasta Sauces."
Once you catch on to the concept, you almost don't need the book. But Warner has such winning flavor combinations, it would be a shame to miss any.
Here's the plan:
Have add-in ingredients at room temperature.
Cook the pasta in boiling water and drain it.
Quickly stir in the other ingredients.
That's all. It almost sounds too easy to taste great, but this is one time when the whole is definitely greater than the sum of its parts.
You'll need only one pot of boiling water. While it heats, chop some fresh summer things--a fistful of vibrant herbs and some ripe, juicy tomatoes. Grate or crumble a chunk of robust cheese. Open the pantry for fruity olive oil, capers, or marinated artichokes. Cheat a little by adding meats that need no additional cooking: prosciutto, smoked salmon, left-over chicken or canned tuna. The pasta's heat intensifies the flavors and aromas of the ingredients in a way that cold pasta salads can't."

..............................................................................................................

THE WASHINGTON POST

Cooking couldn't get much easier than this: combine a few simple ingredients, toss with pasta and you've got dinner. It's the pretty-nearly-perfect concept for hot summer nights, as detailed in Joie Warner's new cookbook, Joie Warner's No-Cook Pasta Sauces. The pasta still needs to be cooked, but we can live with that."

................................................................................................................

Dana Jacobi, AMAZON.COM


Keep the right pastas in your pantry, along with the other ingredients recommended by Joie Warner, plus a few items in the fridge, and you can always enjoy a heaping plate of pasta tossed with any of a variety of zesty sauces simply by boiling water to cook the pasta while you combine the ingredients for the topping. This is the promise Warner proves to perfection in 75 high-flavor ways. For example, she adds chopped tomatoes to a homemade Caesar salad dressing tossed with bow ties and tops linguine with Spicy Tomato Salsa.

For sauces using meat, poultry, or seafood, she sometimes "cheats" a bit: in Tomato Sauce with Clams, you warm the sauce by placing it in a bowl set over the steaming pasta pot. And for Blue Cheese and Broccoli Sauce, you do cook the broccoli--by tossing it into the pot along with the pasta, but this is so efficient, who cares?

Color photos, taken by Warner's husband, are so sunlit that the food on every page looks like a cheerful feast.


Barbara Dingle, HOUSE AND HOME

"What an wonderful panoply of color and shape, taste and texture greets the expectant diners of traditional Chinese cuisine. It differs radically from the American "meat and two veg" philosophy, or the all-in-one casserole dish, and this is its charm. Chinese fare is a popular choice in North America. But how many of us who seek out the restaurants with the hottest Szechwan or the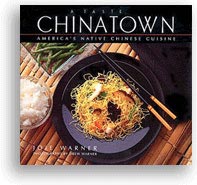 crunchiest spring rolls have gone a round or two with a wok and returned to the security of the stove or fry pan?
Joie Warner loves the taste of Chinese food--not the overcooked, smothered-in-gooey sauce variety, but dishes that combine crisp bites of Chinese turnips, water chestnuts and carrots with tender marinated beef chunks or delicate bites of shrimp. The magic in the menu is in the marriage of hot and spicy with subtle, sweet and sour with plain or pungent.
A food writer, recipe developer and cookbook author, Warner wanted to cook the food she found so satisfying on her many trips to Chinatown. Visiting Chinese communities has been a compelling and happy pastime. She delights in the streets overflowing with the sights and sounds of China that are situated just blocks from her neighborhood.
Warner originally approached the chefs in Chinatown restaurants. They, however, declined to hand over their time-honored secrets. Instead, she determined to create her own, using authentic food and seasonings--and running back to the restaurants for comparisons until she was satisfied that she had captured the true essence, "the flavors of Chinatown."
These she presents in her cookbook, A Taste of Chinatown. Along with marvelous tips of shopping, cooking and preparation techniques, she offers recipes that are clear and uncomplicated. There's no getting away from the chopping, though--it's as much a part of Chinese fare as hoisin sauce and chopsticks.
An important tip from Joie: "If you are cooking on an electric rather than gas range, try to find a flat-bottomed wok.. For stir-frying, the heat must be high and intense, or what you are really doing is braising or stewing."


Pat Sadowsky, COSMOPOLITAN MAGAZINE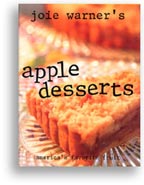 "In appreciation of apples, Joie Warner's Apple Desserts celebrates America's favorite fruit. Apple Desserts, designed and photographed by husband Drew Warner, is devoted to the apple's sweetness and juiciness. Even if you don't try out some of the scrumptious recipes right away (they are short, simple, and easy to follow), you'll enjoy reading them and feasting your eyes on the mouth-watering color photographs. Some of the recipes included are Caramel Apple Upside Down Cake, Sour Cream Apple Pie, Apple Tostadas, Apple-Cranberry Pie, and Apple Bread Pudding. Also available in the series are Joie Warner's Spaghetti and Joie Warner's Caesar Salads. For the coming holidays, a great gift would be all 3 books. The compact book size, affordable price, quick and easy recipes, and photos make these books great stocking stuffers. We give this series a ten plus"

Marion Kane, THE TORONTO STAR

"Apple Desserts, just one in a super new series (others are Spaghetti and Caesar Salads) of nifty little books written by Joie Warner, who has published plenty of one-theme cookbooks, and whose recipes really work."


Pat Dailey, CHICAGO TRIBUNE

"Are cookbook authors becoming small-minded? Perhaps so, but in this case, it's not a character flaw.
Joie Warner has written three slender new volumes, "Caesar Salads: America's Favorite Salad," " Apple Desserts: America's Favorite Fruit" and "Spaghetti: America's Favorite Pasta." Each book has 25 or so recipes and lots of pretty color photos, taken by her husband.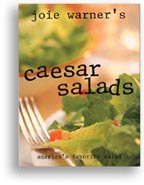 Purists may argue classic Caesar salad is best left alone. Warner's array of recipes, from Mexican Caesar with tortilla croutons to Caesar coleslaw, tosses that idea out the door.
She also makes spaghetti seem anything but prosaic by twirling it into a simple sauce of tomatoes, olives, feta, and mint; frying it into crisp little noshes, and making garden vegetable spaghetti.
The apple of Warner's eye is baked into turnovers, pudding and all manner of luscious desserts.
In each case, the dictum of "less is more" rings true. There may be fewer recipes but they are endlessly inviting."

Susan Farrington, SANFORD NORTH CAROLINA HERALD

"Try listing a half dozen salads and asking people to choose their favorite. Chances are the largest number would opt for a Caesar salad, that all-time favorite developed in Tijuana, Mexico, during Prohibition days. At least, this is the origin of "America's favorite salad," according to cookbook author and food journalist Joie Warner.

Proving her point, she has created a spectacular small jewel of a cookbook, complete with hard-to-resist photographs by Drew Warner.

First thing I did was to feast on each mouth-watering picture of freshly washed romaine lettuce, crispy croutons and assorted touches from sun-dried tomatoes, smoked salmon and grilled swordfish to fried oysters and calamari. Then I read the recipes and went into a tailspin, I wanted to try them all at once.

Just to whet your appetite, here are a few of Warner's choicest. When you prepare them, don't forget to include me on your guest list...

Jane Webb, QUILL & QUIRE

"Each autumn brings a new harvest of cookbooks. This year's crop includes books from three perennial favorites and one new-comer, whose collective interests range from pasta and seafood to country cooking and soups.
All over North America, chefs and home cooks are reveling in the versatility of Italy's national treasure, pasta. Economical, nutritious, and a great time-saver,--as the author of All the Best Pasta Sauces, Joie Warner, points out--'the ideal food of the '80s.' Warner concentrates here on the sauce rather than the pasta itself.
All the Best pasta Sauces features 50 easy-to-make sauces, ranging from zesty tomato-based preparations to rich creams and from simple no-cook recipes to the more complex.
An introductory chapter devoted to pasta basics covers the virtues of different types of pasta and how to cook, sauce, and serve them. Warner also includes notes on the kinds of ingredients called for in the book, the ones she gets the best results from--useful information when one considers the wide range of ingredients available today. She points out her preference for not rinsing the brine off capers and how quickly pine nuts go rancid. Little things, yes, but very important to the final outcome of a dish.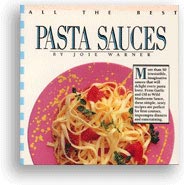 Warner obviously has an acute palate, for the emphasis throughout the book is on the preservation of essential flavors. Creamy mushroom sauce is enlivened with the piquancy of orange zest, Shrimps are abetted by basil, oregano, and lemon. The best thing about this book is that all the recipes are incredibly easy--instructions are rarely longer than a concise paragraph--and yet they bring impressive results."

Douglas Hill, THE GLOBE AND MAIL
"The winner among this season's volumes of and about food? My vote goes to All the Best Pasta Sauces, by Joie Warner. Touted as the first in a series of All the Bests, this is the sort of book that tempts a cook to try every single recipe. The directions are straightforward (there's a section on "basics"); the recipes combine ordinary and exotic ingredients in simple or intriguing ways. Who would have guessed that a sauce of Swiss chard and anchovies could dress fusilli to perfection? Or that a can of chickpeas and a blender could transform linguine? Some of the sauces rely on butter and rich cream and cheeses; others are as light as ingenuity can make them
The serious student of cookbooks risks overloading his shelves, if not his whole house. Each of this week's volumes has something of interest, even it it's only a single recipe or hint. None, except All the Best Pasta Sauces, is absolutely necessary for human survival.
Jennifer Brooks, BANCROFT TIMES
"The book, All the Best Pasta Sauces, by Joie Warner, is small, but the recipes are grand. Most take only minutes to prepare but taste like a master chef spent hours on them. Contains a wide variety of recipes for every kind of pasta, all presented in a simple uncomplicated way so that even a child could follow them."


Anthony Dias Blue, WCBS RADIO
"Yesterday I mentioned that my favorite part of the chicken is the wing. That was quite an admission for me--mainly because I thought I was the only one who felt that way about chickens.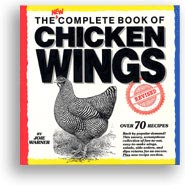 You know, most people like thin slices of white meat from the breast. Kids like the drumsticks because they don't have to fool around with a knife and fork--which they hate doing anyway. They can eat a drumstick with their hands.
Anyway, it turns out there is at least one other person who likes wings best and her name is Joie Warner...The reason I know this is that she wrote a book called The Complete Book of Chicken Wings. This is a charming paperback that contains over 70 chicken wing recipes including the famous chicken wings from Buffalo. There--and you thought nothing famous ever came from Buffalo. And although this book is somewhat lighthearted, the recipes are really quite good. You'd be amazed at all the good things that can be done with chicken wings which are, incidentally, one of the cheapest types of meat you can buy. Don't miss this one, you'll love cooking wings and your kids will thank you too."


MORE REVIEWS:
see what AMAZON.COM customers say about Joie's cookbooks



MORE REVIEWS:
see what EPICURIOUS.COM visitors say about Joie's No-cook Tuna, Lemon, and Caper Sauce