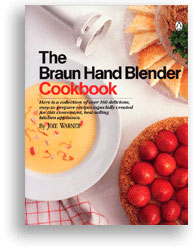 With over 10 million hand blenders in kitchens worldwide, this portable blender has opened up a whole new range of preparing traditional and innovative dishes for everyday fare and entertaining.

When Joie was asked to create the recipes for this book, she thought she had every kitchen appliance she would ever need. Then she was introduced to the hand blender--a utensil that blends, purees, and liquefies foods very fast and effortlessly. Within moments of taking the blender out of its package, Joie was in the kitchen creating mayonnaise. She then moved on to create sauces such as hollandaise, salad dressings, sweet sauces, soups, dips and spreads, and tasty compound butters to spread on muffins, breads, and vegetables.
Joie whipped up eggs into puffy omelets, frittatas, and soufflés; she turned out ethereal crepes, pancakes, waffles, and batters; pureed vegetables and baby food; and made frothy drinks and milkshakes, plus delectable desserts such as mousses, frostings, and pie fillings. With over 160 delicious, easy-to-prepare recipes, The Braun Hand Blender Cookbook contains all these and more.



TRY A RECIPE FROM JOIE'S BOOK

PRESS REVIEWS:
see what the critics say about Joie's recipes and cookbooks



READER'S REVIEWS:
see what AMAZON.COM customers say about Joie's cookbooks



COOK'S REVIEWS:
see what EPICURIOUS.COM visitors say about one of Joie's recipes



MORE OF JOIE'S RECIPES