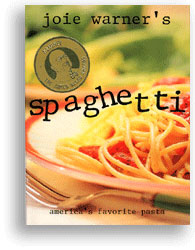 Gone the heavy cream, the oily tomato paste--Joie Warner has created fast, fresh, and fabulous contemporary classics, all prepared by the time the spaghetti is al dente. Here spaghetti is tossed with today's favorites--goat cheese and olive oil, capers and Kalamata olives, sun-dried tomatoes and eggplant, parmesan and basil--all full flavored and fresh! fresh! fresh!

There's something for everyone and for any time of day--even a spa

ghetti dessert. Kids will clamor for fun-to-open Spaghetti Packages, the luncheon crowd will love spaghetti-stuffed tomatoes, the sophisticated set will swoon over Spaghetti with Smoked Salmon, Capers, and Dill, and vegetarians will think they've died and gone to heaven--there's not one sauce with meat in the tempting array of wonderful sauces Joie has included.

Once you've tried them, you'll want to rewrite Omar Khayyam--A Jug of Wine, a Loaf of Bread--a bowl of spaghetti--and Thou!



TRY A RECIPE FROM JOIE'S BOOK

PRESS REVIEWS:
see what the critics say about Joie's recipes and cookbooks



READER'S REVIEWS:
see what AMAZON.COM customers say about Joie's cookbooks



COOK'S REVIEWS:
see what EPICURIOUS.COM visitors say about one of Joie's recipes



MORE OF JOIE'S RECIPES