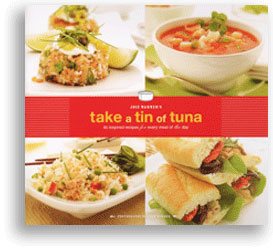 Who knew just how versatile tuna could be? With fabulous recipes for appetizers, soups, salads, sandwiches, and entrées, Joie Warner invites you to take an ordinary can of tuna and turn it into something extraordinary.

Start with the classics. Create a showstopper version of tuna noodle casserole using tuna and fresh fettuccine in a luscious lemon cream sauce. Combine celery, tart apples, and red onion for a crunchy tuna salad sandwich or a gooey tuna melt. But don't stop there. Try tuna stacked on focaccia, stuffed in a pita, or tucked in a tortilla. Add some zest to a smooth fondue or a splash of flavor to a creamy corn chowder. There's even a scrumptious tuna-topped pizza with roasted red peppers and capers.
With tips for finding the best-quality canned tuna, along with a list of items to keep on hand for a tuna-friendly kitchen, you'll be well equipped the next time you need to prepare a delicious dish at a moment's notice. Just take a tin of tuna in one hand and this book in the other and yum! You know they'll be asking for more.



TRY A RECIPE FROM JOIE'S BOOK

PRESS REVIEWS:
see what the critics say about Joie's recipes and cookbooks



READER'S REVIEWS:
see what AMAZON.COM customers say about Joie's cookbooks



COOK'S REVIEWS:
see what EPICURIOUS.COM visitors say about one of Joie's recipes



MORE OF JOIE'S RECIPES