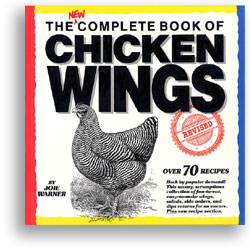 The world's bestselling chicken wing cookbook. A classic with over 200,000 copies in print.
When Joie's The Complete Book of Chicken Wings was originally published in 1985, Buffalo chicken wings were a regional specialty, little known outside the area of Buffalo, New York. It was the first cookbook devoted entirely to chicken wings and its enormous success helped launch Buffalo Chicken Wings as a food phenomenon in bars, restaurants, and at backyard barbecues across North America.

Wings are inexpensive, easy to cook, respond to a myriad of spices, seasonings, and marinades, and are wonderfully versatile; they can be broiled, barbecued, pan-fried, stir-fried, deep-fried, steamed, baked, and boned and stuffed. Best of all, they're fun to eat. Delight in Joie's recipes such as Buffalo Style Wings, Texas Style Barbecued Wings, Parmesan Dijon Wings, Soy Orange Wings, Cajun Wings, Hot Red Pepper Wings...plus delicious salads and side dishes.

PRESS REVIEWS:
see what the critics say about Joie's recipes and cookbooks



READER'S REVIEWS:
see what AMAZON.COM customers say about Joie's cookbooks



COOK'S REVIEWS:
see what EPICURIOUS.COM visitors say about one of Joie's recipes



MORE OF JOIE'S RECIPES