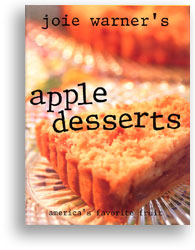 Joie Warner's Apple Desserts is devoted to luscious, easy-to-make variations on familiar themes, be it a rosy-glow applesauce or a Cinnamon-Scented Apple Pie that's out of this world.

Here, comfort food is raised to hitherto unscaled heights--you may even forget just how mother used to make it. Joie's inimitable spin--a zest of lime here, a dollop of sour cream there, and dashes of cinnamon everywhere--puts a contemporary glisten and glow on these all-time American favorites.

There's good news, too, for the health-conscious who dearly love desserts--these delightful, delectable, and delicious desserts are decidedly good for you (in moderation of course)--but don't tell the kids, it might spoil their unadulterated pleasure!

And, as with all Joie's books, simplicity is the key--the hardest thing you have to do is peel the apples.




TRY A RECIPE FROM JOIE'S BOOK

PRESS REVIEWS:
see what the critics say about Joie's recipes and cookbooks



READER'S REVIEWS:
see what AMAZON.COM customers say about Joie's cookbooks



COOK'S REVIEWS:
see what EPICURIOUS.COM visitors say about one of Joie's recipes



MORE OF JOIE'S RECIPES