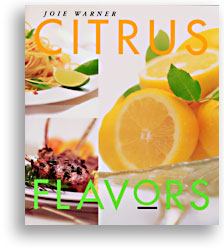 The sunny flavor of citrus shines throughout the year, in recipes from around the world and in every course of every meal from breakfast to bedtime.

Lemons conjure up visions of The World's Lemony-est Veal Piccata, Joie's adaptation of a classic Italian favorite, or that most American of desserts, Lemon Meringue Pie. Oranges bring to mind not only China's Orange-Flavored Stir-Fried Chicken with Baby Corn but also Citrus-Spiked Couscous and Orange Raisin Scones.
These, along with Mexican Lime Soup, Grapefruit Salad with Arugula and Spicy Citrus Dressing, and more than 75 other recipes for pancakes, muffins, seafood, salads, vegetables, desserts, and drinks of all kinds--along with countless variations--make Joie Warner's Citrus Flavors the most delicious collection of sprightly citrus-flavored recipes on the market today.
Whether you like your food hot and tangy or sweet,, crisp, and crunchy or smooth and silky, you'll find your palate's favorites here. Also included are a wealth of information on how to choose, buy, and store every kind of citrus; and suggestions on how to create your own pantry of citrus staples. Illustrated with Drew Warner's beautiful full-color photos, this is a book to delight the eye and make the taste buds tingle.



TRY A RECIPE FROM JOIE'S BOOK

PRESS REVIEWS:
see what the critics say about Joie's recipes and cookbooks



READER'S REVIEWS:
see what AMAZON.COM customers say about Joie's cookbooks



COOK'S REVIEWS:
see what EPICURIOUS.COM visitors say about one of Joie's recipes



MORE OF JOIE'S RECIPES